Designed by
UX Researchers
Easy user testing

without needing a subscription.

Discover insights and optimize your website, prototype or app. From $30 per user test.
Trusted by over 500 organizations
850,000+
Testers
from all over the world
500+
Happy clients
Use Userfeel for a better website or app
How Userfeel helped Justin Baker to test his website with real users and improve it
How does Userfeel compare to other user testing tools?
No subscription needed
Cost of subscription plan
Cost per tester with full features included
Team members/seats included
Multilingual user tester panel
Bring your own testers
Advanced demographics
Unlimited screener questions
Unmoderated and Moderated User Tests
Video highlight reels
Audio transcript
Userfeel
Your testers - $30
Our testers - $60
Unlimited
at no extra cost
English, Spanish, German, French,
plus 36 others
No subscription needed and unlimited screener questions included - unlike other tools!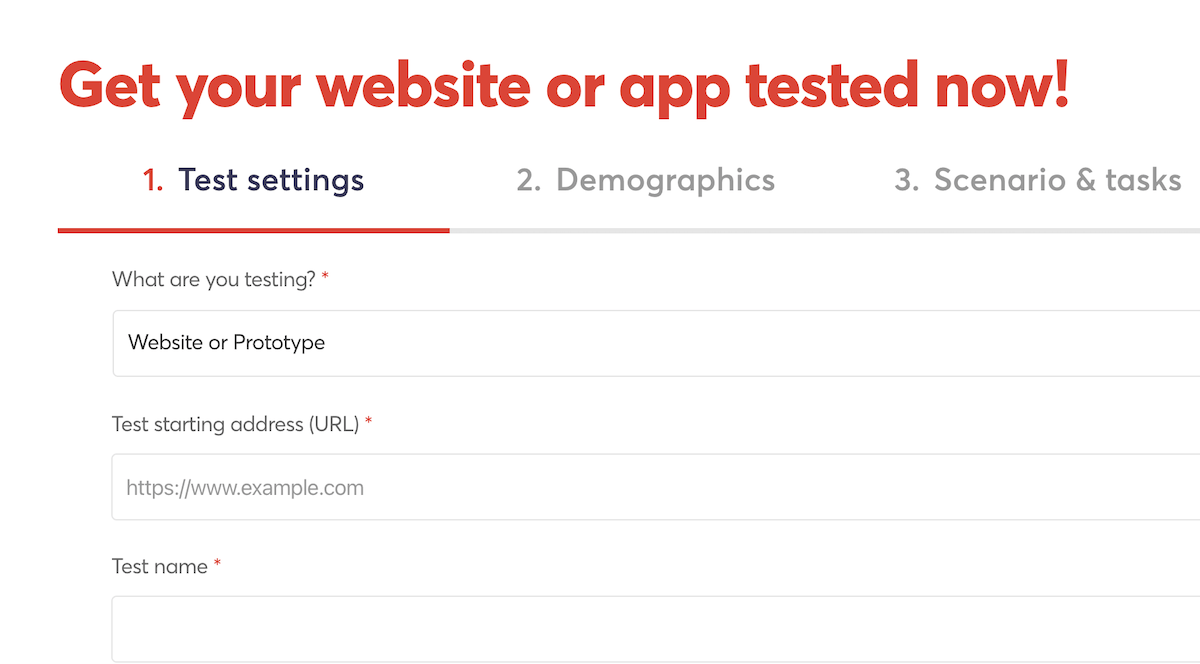 Simply pay per user test from our panel of more than 850,000 testers speaking 40 languages. Set up screener questions and demographics to ensure they match your target audience.
All features
What's included with every user test
We give you everything you need to successfully create and analyze your user tests.
Recruitment
Recruitment of user testers matching the demographics and screener questions you request
Video
Video recording of user tester completing questions and tasks on your website, app or prototype
Audio
Audio of user tester in the video recording, voice transcript, 'system usability scale' rating and test summary
Screening
To ensure you get feedback from user testers that exactly match your target audience, we offer the ability to choose demographics (age, gender, location, language and level of web experience), and screener questions to get specific with your needs (for example if you only want users who have purchased shoes online before)
Teamwork
Each team member can add annotations to videos and categorize issues based on their type (usability issue, bug, general observation, or user comment).
Highlight Videos
The best way to present the results of your usability studies to your team and have team buy-in is to create a highlights video showing the most critical issues. Userfeel helps you create this video in minutes rather than hours. The video can be downloaded locally or automatically uploaded to your YouTube account as unlisted, ready to share.
Sharing
The ability to add annotations and share highlight videos with your team
Why do user testing?
User testing helps you discover your users issues, frustrations, doubts, needs and desires. Knowing this helps form high-impact ideas for improving your website usability, conversion rates and revenue.

User testing helps you discover bugs that you didn't know had on desktop and mobile, and on different browser types. Fixing these bugs quickly helps you reduce exits and increase conversion rates.
Why not run heatmaps or A/B tests instead?
Heatmaps show you where users click and what attracts their attention, they don't show you WHY though. User testing, on the other hand, shows you WHY they get attracted, what they expect when they click, and what confuses them.

Userfeel allows you to find real users problems and develop informed hypotheses in order to run more focused and targeted A/B tests. So, user testing precedes A/B testing.
How many usability tests should I do?
Usability gurus suggest 5 tests per device type (desktop, mobile, tablet) are enough to reveal about 80% of existing problems with any website at any given point, and for a particular test scenario.
Take the next step
Start your user tests today and get better feedback
Create user tests using a better tool. No monthly fees. No credit card required to start.
Start testing
Book a live demo with us to see a better tool
Discover how powerful Userfeel is for doing user testing more effectively and ask us anything.
Book a demo call
CLOSE
Why we recommend to test with 5 users per device
Based on
Nielsen Norman Group study
,
5 users reveal about 80%
of the problems. "Adding more users increases costs, yet the number of findings quicly reaches the point of diminishing returns".