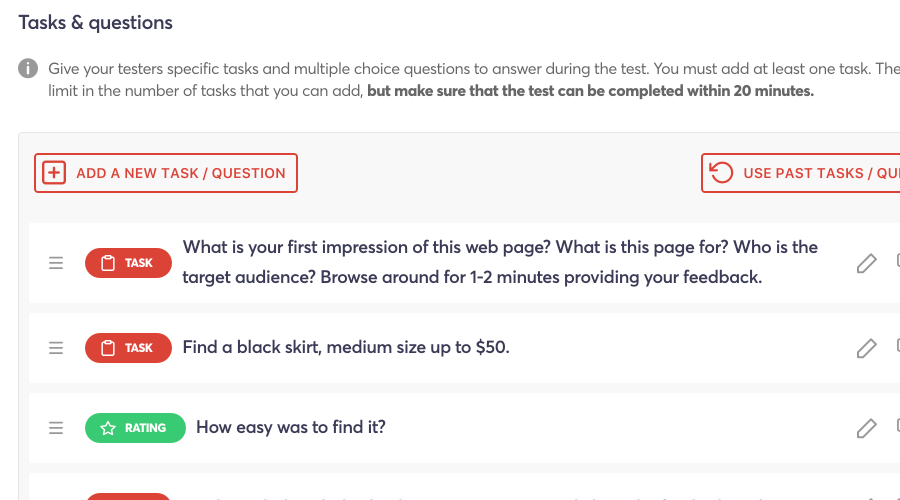 Defining the scenario and tasks for your usability test is an essential and sometimes daunting task, knowing that this is crucial to the success of your study.
At Userfeel we have made it extremely simple and easy to set up your scenario, as we provide ready-made templates that you can start with.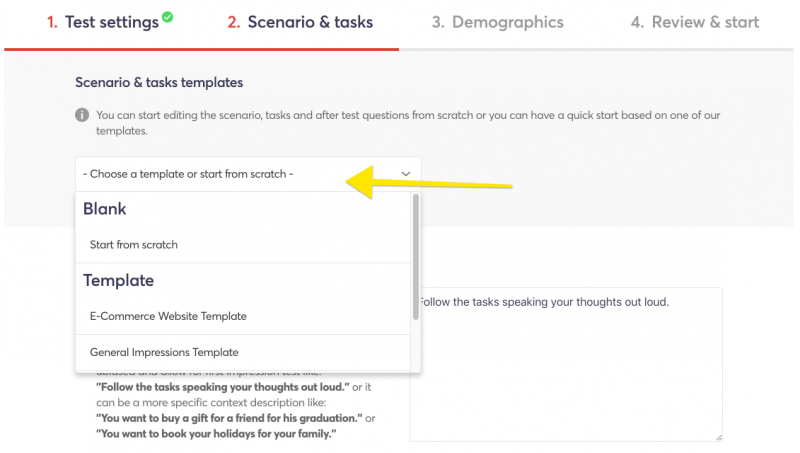 Just select the appropriate template on the test setup page, and the scenario and tasks will be prepopulated. Of course, you can further edit the ones provided by the template you choose.
Besides that, here are some tips to keep in mind:
Keep the scenario as short as possible, one to two sentences max
The scenario is what is shown to the user before starting the test. It should quickly convey the context.
Here are some examples of scenarios:
"You want to book a room for your family holiday. Follow the tasks and speak your thoughts aloud."
"You want to buy a gift for a good friend for her birthday."
"You want to organize your party online. You found a website that does just that."
Or it can be something as simple as:
"Follow the tasks while speaking your thoughts aloud."
Set clear tasks
When it's time to setup your tasks, make them as clear as possible.
Some example tasks are:
"What is your first impression of this web page? What is this page for?"
"Search for availability and select a room for two adults and two kids (five and six years old) for four nights in a 4-star hotel in Paris."
"Find a black skirt, size medium, up to $50."
"Go through the whole checkout process. DON'T click on the final submit button."
Give time hints
Since there is a 20-minutes time limit for standard tests when using Userfeel testers, for tests that have a lot of tasks, give a hint about how much time the user should spend on each one.
For example:
"What is your first impression of this web page? What is this page for? Who is the target audience? Browse around for 1-2 minutes providing your feedback."
Use the right task type
You can set up five different types of tasks: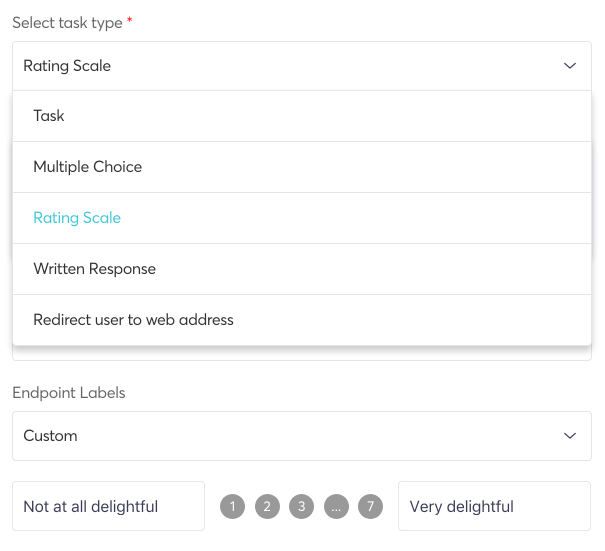 1. Task
You ask the user to do something on the website. These are usually the most time-consuming tasks. Tasks can be e.g. to ask the user to find or buy a product, explore the website, book a room, use an app, etc.
2. Multiple choice
You ask the user to respond to a question by selecting from predefined options. Selecting from predefined options is very fast for the user to do and is preferable to requesting the user to write something.
3. Rating scale
Similar to the multiple choice task type, you ask the user to rate his experience on a scale that you set up. For example, you can use this type of task to set up an NPS (Net Promoter Score) question like this:
"How likely would you be to recommend this website to a friend or colleague?"
0 Very unlikely - 10 Very likely
Other rating scale questions you can setup are:
"How easy did you find the checkout process to be?" (1 Very difficult - 5 Very easy)
"How delightful did you find this website to be?" (1 Not at all delightful - 7 Very delightful)
4. Written response
You ask the user to answer a question in writing. This is time-consuming, especially if you test on mobile, so try to avoid it, or switch to a regular task where you will ask users to provide their feedback verbally.
5. Redirect user to web address
This task type is useful when you want to redirect the user to another URL to get feedback for a second or third website.
Using the right task type can save a lot of time and frustration for users, which is crucial when you want to get their insights on using your website or app.
Need more help setting up your scenario and tasks? We'll be more than happy to help you. Just contact us.